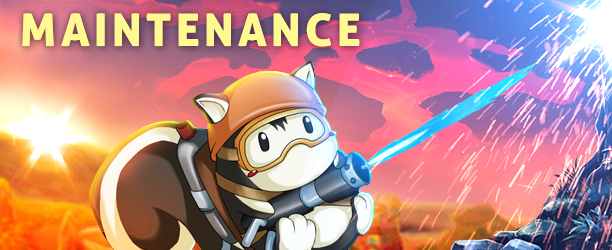 Hey NosPlayers,
on Thursday we will have run a maintenance for the start of the new international server.
When exactly?
Thursday, August 25th 2022 from 09:00 until approximately 15:00 CEST. Our gameservers, as well as some of our services, will be unavailable during that time.
What is being changed?
We are starting a new international server
Summer Event part 1 ends
Summer Event part 2 begins
We are implementing a big chunk of changes to quests, some event raids and overall earlygame progression. You can find a full rundown of that below.
Changes to the main quest (act 1 to act 4):
This time around we turn our attention to quest progression and the difficulty of older game content. While last time (in April) we looked at act 6 and made some adjustments there, this time we're looking specifically at the starting areas of the game. We have noticed that there are some issues in the starting area of the game:
After level 18, quests don't reward enough experience points to continue the story right away.
From level 55, quests reward as good as no experience points, making continuing the story for many torture.
Not enough job experience points are received to hold the desired specialist card at the respective level.
Some quests take too much time as the drop rates for certain items are very low.
For these reasons, we have decided to completely rework many of the quests. The following changes will be introduced with the upcoming update:
If a quest requires you to complete a certain Time-Space, you will automatically be set to the appropriate combat level in advance. Please note that you will not receive any experience points if you have already reached or exceeded the required level.
With each combat level-up, you will now also receive at least one job level-up. At combat level 46, for example, you will now automatically reach job level 35.
The drop rate/required number of monsters for numerous quests has been revised. You should now not get stuck on a quest for longer than 10–20 minutes. *gives Hammer of Pain the evil eye*
The respawn time of some quest monsters has been reduced.
The chance of mining items from the landscape has been considerably increased (e.g. Fragrant Grass, Glittering Water etc.)
Players can now also receive additional limited resistances by playing the quest to level 49. From that point, they will receive equipment equivalent to level 45 gloves + shoes sum 5 (each with 42% resistance per element).
A full list of changed quests can be found via the following link: https://nostale.comastuff.com/…hanges_Summerevent_p2.pdf
Changes to act 5.2:
Since the introduction of acts 6 & 7, the content of act 5.2 has increasingly been forgotten. The main reason for this is that there is no longer any reason to grind to level 92 (or level 96 even) to finally be able to don the corresponding equipment. As it is our wish for players in any act to have a positive experience in future, we have decided to significantly reduce the level limit for this area. Here are the new levels:
Level 90/91 equipment (Ibrahim equipment + act 5.2 resistances): Level 90/91 → Level 85
Level 92/93 equipment, hats, masks (available mainly from act 5.2 raids): Level 92/93 → Level 88
Level 95/96 equipment (craftable with a lot of effort): Level 95/96 → Level 90
Act 5.2 raids: entry possible from level 90 → 85 (however, rewards can only be received from level 88+)
All main and side quests connected to act 5.2 have accordingly been reduced to level 85.
The three level 90 Time-Space Stones in the act 5.2 region have also been reduced to level 85.
Accordingly, the remaining Time-Space Stones have now been put in a meaningful order: they now ascend by level again (act 5.2: level 85+, act 7: level 85+, act 7.2: level 88+, act 8: level 90+)
We are aware that there are still some quests in act 5.1 that require level 85 or higher. These will get their own adjustments in a future update.
Additional quest adjustments:
Alongside the two quests mentioned above, we also wanted to look at other quests that currently eat up too much time. These include the SP2, SP3, SP4 and Lab quests. These currently take up an unnatural amount of time, making it unnecessarily difficult for players to complete them. Therefore, the following changes will be introduced with the update:
The drop rate for Lilies of Purity (SP2 quest) has been increased from 10% to 30% (per monster).
The drop rate of various quest items in the SP3 quest (including Flint, Straw, Water Bottles and the Small Safe) has been drastically increased.
The drop rate of various quest items in the SP4 quest (including Whitney's Treatise, Natalie's Hairband) has been considerably increased.
The number of monsters to hunt for the SP4 quest has been considerably reduced.
The money to be given away in the SP4 quest has been reduced from 3 million gold to 2 million gold.
The number of Gunks required for the crafting of a Lab Time-Space has been reduced from 30 to 10.
Gunks can now also be dropped by all monsters on the corresponding map:

Red Gunk: drops in Secret Lab 1
Blue Gunk: drops in Secret Lab 2
Green Gunk: drops in Secret Lab 3

The Lab start quest is now indicated by a corresponding side mission icon on the minimap.
A Seed of Power is no longer needed to enter a Lab Time-Space (it is only required to craft one).
Adjustments to the Martial Artist:
The Martial Artist's quest has felt more difficult than average for a while now. This was mainly due to the monsters that needed to be defeated, originally from act 6. To make it a little easier for aspiring martial artists to start the game, we have switched the monsters that need to be defeat in the SP1 quest for their variants from act 3.
Sentinel: level 83 → level 72
Ghastly Spearman: Level 88 → Level 63
Mysterious Person: 49,775 HP → 34,744 HP
Additionally, new Martial Artists receive some new equipment in their starter box:
The 8 new resistances that are obtained by completing the main quest
Non-tradeable equipment with a rarity of 5+7
99x Huge Recovery Potion
We hope this makes it much more enjoyable for many players to progress with their quest. We are aware that many Martial Artists want additional, wearable equipment and we are happy to announce that some of them (including the Hippo Hat, Monkey Hat and Bunny Hairband) will be usable by Martial Artists in the next update.
Changes to event raids:
Over recent years, the gold has been reduced, so completing event raids can feel unrewarding. Additionally, the rewards in raids often varied greatly, with some raids being much more worthwhile than others. To counter this, we have adjusted the rewards from event raids so that they now correspond more closely to the required effort. You can now get different specialist partners and Perfection Stones from each event raid, and you now get more gold at the end of raids that take longer to complete. We hope that this will give new players especially the opportunity to earn items that will help them in the long run.
Changes to the Dodge Meteor raid:
The damage dealt by the red meteor have been halved.
The Acorns now drop in the break between rounds.
Changes to the Bushi King Defence raid:
The maximum duration has been reduced from 20 to 10 minutes.
The required action points has been halved (310 -> 160).
The cooldown time of the skill to stun enemies has been increased from 8 to 12 seconds.
The chance of monsters being spawned has been increased.
Please note that it is the developer's wish that the losing team in the Bushi King Defence raid does not receive a Raid Box (but a few Acorns). Accordingly, no further changes to the rewards are planned.
Other changes:
Maple Devils can now summon their Strong Punkies slightly more often (2x per monster instead of 1x). The aim of this is to make it easier to farm certain items dropped by these Punkies.
Earthworms and Terramonsters now have a considerably reduced chance to stun their opponents.
The Broken Red Plate and Shocked Soldier now respawn immediately after their death.
Flame Giant and Blazing Creatures now have a considerably lower respawn time.
The cooldown time of the Capture skill has been reduced from 30 sec. to 15 sec.
The large snowman from the Snowman Raid now kills players who do not use the Play Dead skill correctly.
The Foxy Raid no longer drops Professor Macavity raid seals.
Bugfixes:
A bug was fixed which forced Battle Monks to leave the Rainbow Battle if they used the Sacrifice skill on an ally and were killed by it.
Minigames now correctly show you the amount of Reputation required to play them.
The portals in the act 5.2 Time-Spaces now lead players in the correct direction.
After a raid, the cooldown times of skills were not reset correctly under certain circumstances.
The sale price of Flame Stingray Pancakes has been corrected (13,530,000 to 1,353,000 gold)
The selected skillbar no longer resets after completing a raid
A bug was fixed which caused players to be unable to claim the reward from the main story quest "New Meeting"
The 30% fairies from the Martial Artist Starter Pack can now be leveled up to 50%
Ginseng leafs now restore the correct amount of HP/MP (5.000 instead of 2.000)
A bug was fixed which caused the family history to not save properly between 4:00 AM and 9:00 AM on a maintenance day
Please also note that, unrelated to the game maintenance, our support platform will have its monthly downtime in the early hours of Thursday. While this is ongoing you will be unable to create new tickets. Existing ones are unaffected and will be handled afterwards.
The NosTale Team