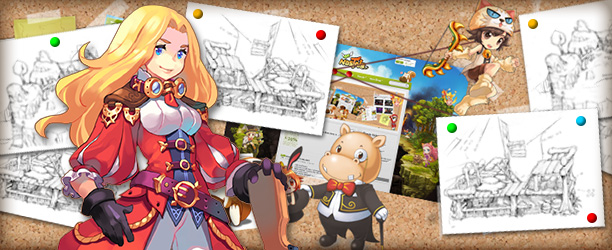 Our partner Jennifer fights like a tiger alongside NosTale's heroes, influencing the attacks of their opponents. We think she's earned a cool new outfit for her courage! And where better than the community to find great ideas?
We'd like to invite you to get your creative caps on and show us your skills. The top designers can look forward to some cool prizes! Gameforge and Entwell will choose the winning design which will then be implemented in the game.
How do you participate?
(Please read the requirements thoroughly)
The title of the contest is "NosTale Design Contest – Skin for Jennifer". The designs you submit should suit this.

Requirements: The front and rear of the skin must be visible, as well as Jennifer's weapon.Entwell have supplied a design from another partner (see below) which you can use to guide you.

Designs can be digital or created by hand. Use whichever drawing technique you prefer, but screenshots are prohibited!

Your design should be sent to fanart@nostale.co.uk by 11:59 PM CEST on 28th May 2018.

The submission should be sent from the email address linked to your game account. Please also provide your character name and the server you play on. Use the following subject line: 'NosTale Design Contest – Skin for Jennifer'

Permitted formats: .png, .jpg, .gif. Maximum file size: 5 MB

What can you win?
The best five entries will be rewarded with a NosTale coupon worth €100, plus Jennifer's new skin as soon as it's available in the game!
We're looking forward to seeing your designs!
Best of luck!
The NosTale Team
How the design should look like (Front + Rear + Weapon, example from another partner)